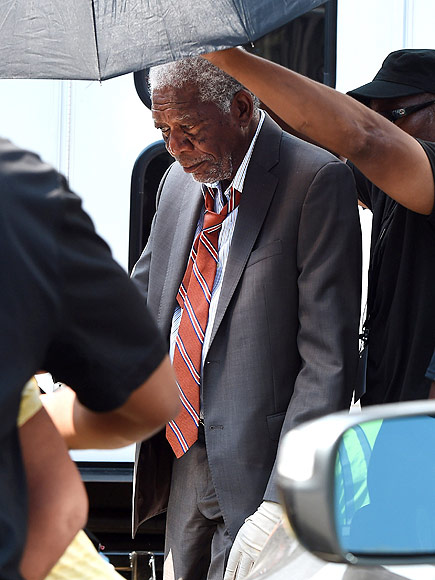 Morgan Freeman
was photographed Tuesday in New York City, his first public appearance since his step-granddaughter was found
stabbed to death
on Sunday.
The 78-year-old actor was shielded by umbrellas held by crew members as he returned to the set of his film
Going in Style
.
Freeman's step-granddaughter, E'Dena Hines, 33, was found lying in the street outside of her New York City home at around 3 a.m. Sunday suffering from stab wounds. She was later pronounced dead after being taken by EMS to Harlem Hospital.
According to a statement from the NYPD, Hines suffered multiple stab wounds to her torso.
Hines' boyfriend Lamar Davenport was taken into custody at the scene and has been
charged with second-degree murder
.
A witness told
CBS News
he heard the couple arguing from his apartment about an hour before Hines' body was discovered. According to the witness it seemed as if Davenport was attempting to perform an exorcism on Freeman's granddaughter, yelling things like "Devil, be gone."
In a statement to PEOPLE, Freeman said, "The world will never know her artistry and talent, and how much [Hines] had to offer."
"Her friends and family were fortunate enough to have known what she meant as a person," he continued. "Her star will continue to shine bright in our hearts, thoughts and prayers. May she rest in peace."