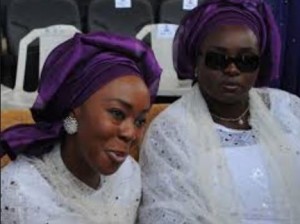 Wife of the Kwara State Governor, Mrs. Omolewa Ahmed has described reports of a rift between her and wife of the Senate President, Mrs. Toyin Saraki, as a false claim that exists only in the writers' imagination.
One of the national dailies (not Vanguard) had reported that Mrs Ahmed and Mrs. Saraki were currently having a rift.
Mrs. Ahmed, in a statement issued in Ilorin on Monday, said she enjoys a close and warm relationship with Mrs. Saraki dating back to when her husband, Governor Abdulfatah Ahmed, was a commissioner under Senator Bukola Saraki's administration as Governor of Kwara State.
She said the relationship has become stronger over the years, stressing that Mrs Saraki is a friend and sister who has
remained supportive over the years.
Mrs Ahmed added that not only is her relationship with Mrs. Saraki solid and devoid of rivalry, it continues to wax strong based on long friendship, mutual respect, and a shared commitment to improving the welfare of children, women, families and the less privileged in Kwara.
She said : 'This latest attempt to drive a wedge between me and my sister, Her Excellency, Mrs. Toyin Saraki has failed just like previous politically-motivated propaganda targeted at creating crises. No amount of misinformation will rupture the cordial relationship we enjoy'.
Vangurad.