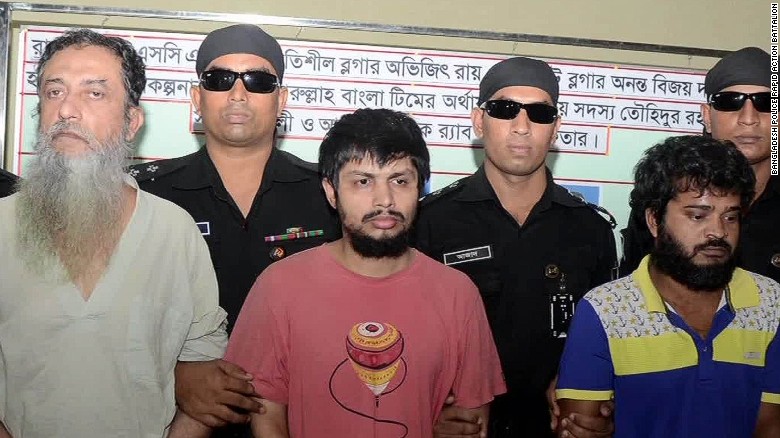 Bangladesh's Rapid Action Battalion (RAB) Tuesday arrested three suspected Islamist militants, one of whom is a British citizen, in connection with the killings of two secular bloggers earlier this year, Agence France-Presse (AFP) reported. The British national masterminded the killings, according to officials.
Touhidur Rahman, 58, and two other "active members" of the Ansarullah Bangla Team, an al Qaeda-inspired group, were taken into custody, RAB spokesmen Major Maksudul Alam
told
AFP. The killings of the two bloggers -- Avijit Roy and Ananta Bijoy Das -- and an April bank heist prompted the Bangladesh government to ban the group in May.
"We've arrested them in the capital today. We can confirm that Rahman is a Bangladesh origin British citizen. He is the main planner of the attacks on Avijit Roy and Ananta Bijoy Das," Alam reportedly said.
In May, masked men "with machetes"
hacked
blogger Ananta Bijoy Das to death in Sylhet, about 147 miles northeast of Dhaka. Das authored blogs for "Mukto-Mona" ("Free-mind"), a website founded by Avijit Roy, a Bangladeshi-American blogger, who was
murdered
in Dhaka in February. Two armed assailants attacked Roy and his wife, Rafida Ahmed, who survived the attack.
Last Thursday, two suspects were
arrested
in Dhaka over the
killing
of another secular blogger, Niloy Neel, on Aug. 7. Neel, 40, was murdered at his home by suspected Islamists.
Washiqur Rahman
, another blogger who wrote "against religious fundamentalism," was killed in May.More photos below..