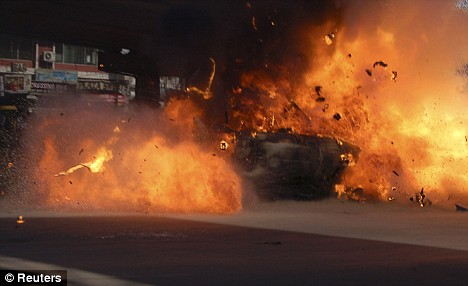 At least 21 people have been killed and 100 injured in multiple explosions in the Iraqi capital, police sources have told Al Jazeera.
A car bomb blew up in the predominately Shia neighborhood of Habiniyah in eastern Baghdad on Saturday, killing 12 people and injuring 40, sources said.
Meanwhile, a roadside bomb blew up in the mainly Shia area of Askan in the west of the city, targeting civilians in a shopping area. Three were killed and 25 were injured in the attack, according to police sources.
Another roadside bomb at a shopping area in Madaen, in the southeast of Baghdad, reportedly killed two and injured 20.
Two people died and 12 were injured when a roadside bomb exploded in a commercial area in the Jisr Diyala neighbourhood, while two were killed and three injured in Taji town in the north of the capital.
A blast in car repair shops, also in Taji, killed two and injured three.
Iraq is experiencing an upsurge in instability with the government struggling to contend with the Islamic State of Iraq and the Levant.
ISIL overran large parts of Iraq in June, 2014 and also holds significant territory in neighbouring Syria.
Iraqi security forces and militias continue to battle ISIL in Anbar province, the sprawling Sunni heartland in western Iraq.